Bridge of Spies: A Slice of Drama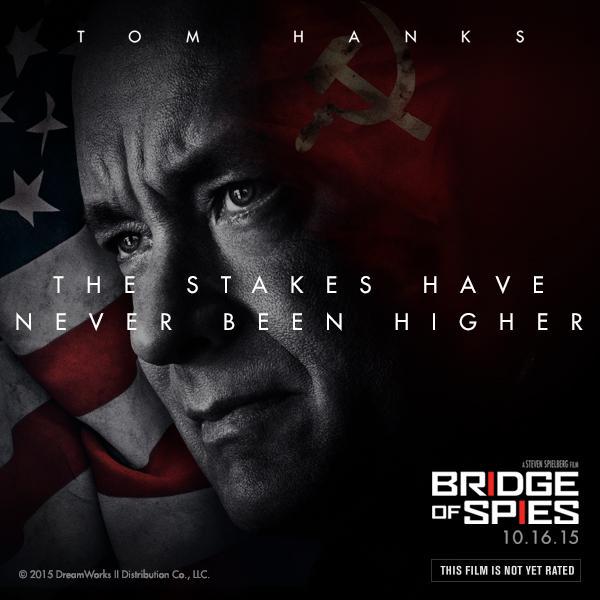 In Steven Spielberg's latest film Bridge of Spies, James Donovan (Tom Hanks), an insurance lawyer from New York, is assigned to defend a suspected Russian spy, Rudolf Abel (Mark Rylance). Given the thankless job of defending a public enemy, Donovan maintains his integrity as a lawyer, doing all that he can to provide Abel a competent defense and help him avoid the death penalty, believing that Abel would be useful in the event of an American spy being captured in the future.
Donovan's prediction comes true during the height of the Cold War when the Central Intelligence Agency (CIA) requests that he negotiate the exchange of spies between the United States and the Soviet Union. He travels to the German capital of Berlin to negotiate the exchange of Soviet spy Abel for American Francis Gary Powers (Austin Stowell). During the negotiations, American student Frederick Pryor (Will Rogers) is found in the wrong place at the wrong time and is captured by the German Democratic Republic, also known as East Germany. Although he is not instructed to do so, Donovan negotiates for Pryor's release as well. Operating alone and on the other side of the Berlin Wall, Donovan is faced with Soviet deceit, German trickery, and spends some time in a jail cell.
Overall, Hanks delivers a stellar performance as a lawyer firm in his beliefs on the Constitution, while Rylance effectively portrays Abel as a noble character. Spielberg once again delivers a classic biographical movie that is both informative and entertaining. He is able to teach viewers about the war between the shadows that took place in the mid-twentieth century, as well as keep them on the edge of their seats as Donovan engages in psychological battles with both Soviet and East German diplomats.
The excitement from the film was, however, dampened by the lack of action and a generally depressing tone. Many things were explained in the film, which often took viewers out of the mood to continue watching, as it became more like a history lesson rather than a film at times. The film also lacks the typical inspiring ending we've come to expect from Hollywood works, but that is to be expected, as the movie is meant to highlight the extraordinary odds that Donovan overcame to bring Powers and Pryor back home.
With that being said, Bridge of Spies is a great film. Hanks is spot-on in his portrayal, and the movie is seamlessly woven to keep the audience engaged. The two and a half hours seem to fly by when you watch the film, and you are sure to gain a greater appreciation for those who negotiate on behalf of our country after watching it.