Adele's 25: She's Back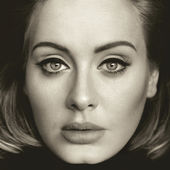 Adele is back: there are no two ways of saying it. Her first album in four years— after her groundbreaking "19" and "21"— has proven wildly popular around the world, selling a whopping three million records in its first week in America and smashing decade-old records. But with Adele's restriction on online streaming, fans will have to pay for the whole album to hear any of the songs. Is "25" worth the wait, and more importantly, worth the price?
The almost rabid anticipation for "25" was manifest in the reaction to the release of the single "Hello," the album's first track and perhaps its most show-stopping. But while "Hello" does exhibit Adele's trademark vocal talent through her soaring riffs and incredible power, the song's tone noticeably deviates from that of the rest of the album. Listeners of "Hello" who expect an emotional punch in the gut to be the focal point of the album will be surprised, perhaps even pleasantly so. Contrary to "21," which was Adele's self-proclaimed "break-up album," "25" drops the heavy handed sentimentality and instead goes for a refreshing, open outlook. The result is an artist that shows more contentedness than the woman of the past who earned the name, "the patron saint of heartbreak."
The most important strength of "25" is, undoubtedly, Adele herself. Adele's iconic voice, with its Amy Winehouse-esque accent, is as strong as ever, and the album is designed to let the listener know it. In fact, while her previous albums were a showcase in songwriting and innovation, "25" feels more like a display of what Adele is really capable of, vocally.  Every song is full of Adele's huge voice, delivering maximum impact. Despite changing tastes of the music industry leaning away from the classic ballad, Adele remains unchanged and "25" sticks to what she does best. While not out-and-out depressing, the album occasionally packs quite the emotional punch, ranging from the sweet nostalgia of "When We Were Young" to "All I Ask"'s wistful tone, culminating in sheer lover's joy in "Sweetest Devotion."
Almost all Adele songs have excellent instrumentals, and this album's tracks are no exception. Every song neatly incorporates a mix of piano balladry and the drums in a way that enhances the feeling of the song but doesn't upstage the artist herself. "25" noticeably ramps up the engineering in comparison to Adele's previous albums; while Adele is the sole voice, overlaying harmonies are everywhere and in every range. In the same vein as Sam Smith, Lorde, Hozier, and Florence Plus the Machine, the editing on the tracks goes for huge, almost otherworldly sounding echo, highlighting the artist's voice as much as possible. The effect is very powerful, but still keeps the album from being easy listening–this is not the best collection of songs for studying or doing homework.
Despite its major hype, "25" isn't perfect. Compared to Adele's groundbreaking earlier albums, "25" is definitely the least interesting of the bunch. If you're looking for an eclectic album with a bunch of different featured artists and incredibly varied songs, this isn't it. A lot of Adele's songs resemble those of her previous albums, and even tend to blend together after extended listening. Only one of the songs in the album ("I Miss You") really goes into new territory by incorporating synth elements and heavy drums. "25" teeters on the edge of falling securely into Adele's comfort zone. Where "21" pushed the boundaries of the perception of Adele's musical range with songs like the Motown-esque "Rumor Has It," "25" is Adele as we have always known her, like it or not. If you aren't already a fan of Adele, chances are that this album isn't going to change your mind— at its core, "25" is a celebration of Adele herself.
All in all, "25" is Adele to the core, and while not perhaps as striking as her previous albums, is still an excellent collection of songs. If you weren't impressed by Adele's past songs, don't expect anything radically new from this album: save your ten dollars for a more certain album. On the other hand, any Adele fan shouldn't hesitate in picking up "25." If by some miracle you've been living under a rock and have never heard an Adele song, I'd recommend buying Adele's earlier albums instead — the same incredible Adele, with more musical variation.