Oscars Review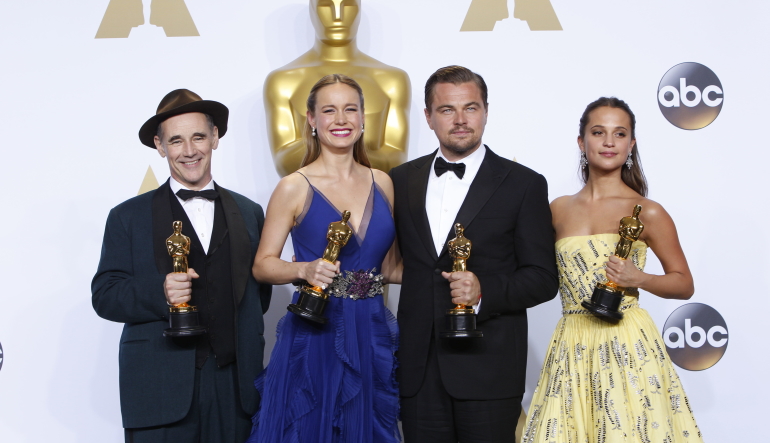 Courtesy of Jim Donnelly
The 88th Annual Academy Awards ceremony took place on February 28th, with no precedent for the issues surrounding the event this year. The Academy Awards, also known as the "Oscars," is an awards ceremony hosted by the Academy of Motion Picture Arts and Science to help acknowledge the best of the best in the film industry.
The show began with the introduction of this year's host, Chris Rock, who took several shots at other actors and the ceremony as a whole throughout the show. Rock's monologue, which lasted ten minutes, was extremely entertaining, but also had some serious points. Rock acknowledged how there was a dearth of African-American actors being nominated for the awards and further claimed that Hollywood was racist by using phrases such as "sorority racist" to describe Hollywood. The comments were not comfortable to hear, but seemed necessary to address before continuing on with the show.
The vast majority of the awards ceremony revolved around the controversy of the diversity present in Hollywood. It was as if the organizers had misinterpreted the trending #OscarsSoWhite as a problem that involved the black/white binary. However, the response during the show in what seemed like an attempt to acknowledge their wrongdoings and make amends for the problem appeared to be too much. Most of the people who announced the nominations and winners for each category were actually African-American as if it would help resolve the situation.
The rest of the show addressed other issues prevalent in society, such as sexual assaults. Lady Gaga's performance of her song "Til It Happens to You" had a chorus of victims of sexual assault who were covered in body ink that displayed various messages.
After what seemed like eternity, the actual winners of the awards were announced. The legacy for one actor was completely rewritten during the night of the show. When Leonardo DiCaprio won the award for Best Actor for his role in The Revenant, he broke the internet as he was finally able to receive an Oscar, something he was not being able to accomplish throughout his career. DiCaprio's acceptance speech was used to talk about climate change and ways in which everybody could contribute to diminish pollution to save the Earth for future generations.
The award for best actress in a leading role belonged to Brie Larson for her performance in "Room." In the movie, Larson plays the role of a woman held captive for seven years who tries to make her son's life as normal as possible. Along with Leonardo, Larson received an Oscar for the first time in her career.
As the night came to a close, the winner for Best Picture was finally announced by Morgan Freeman. The award honored the producers, who helped from the beginning to the end of every movie. Earning the special distinction at the Academy Awards was "Spotlight", produced by Michael Sugar, Steve Golin, Nicole Rocklin, and Blye Pagon Faust.