DareDevil Season 2 Review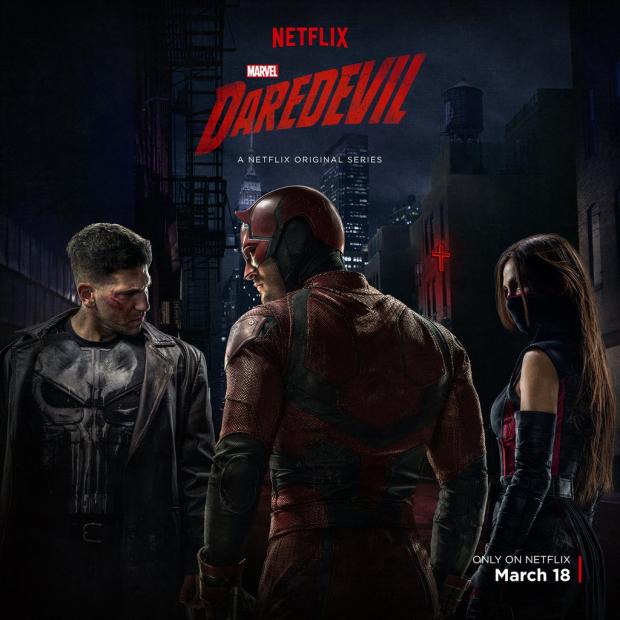 Netflix's highly anticipated second season of Marvel's Daredevil largely upholds the intensity and suspenseful elements of the show's debut season. The first season demonstrated how the dark, gritty elements of comic books should be executed in live-action superhero television, and the result was met with sweeping positive reviews from around the world. Season Two adds multi-layered characters and more side plots, yet still manages to bring back the same level of adrenaline.
We start off by witnessing the titular Daredevil, known as Matt Murdock by his peers, struggling to balance his vigilante nightlife fighting crime in Hell's Kitchen and his day job as a lawyer for his Nelson & Murdock law firm. After working cases that fail to pay the bills, Murdock and his fellow law firm members pick up a high profile case defending Frank Castle, dubbed the Punisher, who is accused of murdering numerous crime families across Hell's Kitchen. At the same time, a mysterious figure emerges from Daredevil's past and seeks aid in taking down one of the city's greatest threats.
Season Two transitions the show from Daredevil's origin story to the moral conflicts that various characters have in trying to make Hell's Kitchen a better place. This development fleshes out characters and enables viewers to experience the chemistry between Murdock and his associates as well as the odd relationship between Daredevil and other vigilantes.
For instance, Punisher constantly encounters Daredevil during his menacing ventures, in which he sets out to slaughter criminals deemed to be dangerous and the source of Hell's Kitchen's corruption. Daredevil, much like another familiar masked vigilante in popular culture, vows to never take a life while protecting his city. He instead opts to subdue his opponents and leave it up to the justice system to determine their fates. Punisher offers an alternate ideology; he believes that despite the justice system, criminals will still continue to pop up and wreak havoc on the city. He chooses to take the lives of his prey to ensure that they don't ruin the lives of civilians later on.
While Season Two does not feature a central villain, the astounding development of each character makes up for its lack thereof. Figures like Castle are initially portrayed as fervent killers, but as his tragic history is revealed, the plot surprisingly generates sympathy for him. Although these kinds of villains are sparse throughout the show, they still contribute to multidimensional approach the show is heading towards.
On the other hand, the last few episodes leading up to the series finale become a bit cheesy. Especially in the finale, Daredevil and other individuals deliver cliché heroic lines before heading into combat. They also appear to have enough time to make conversation with their wounded comrades while their enemies idly wait. These situations partially sour the finale despite the amazing buildup in the preceding episodes.
Despite such hindrances, Daredevil's cinematography and actions sequences remain top-notch. With full-fledged appearances of Daredevil's new suit, introduced at the end of Season One, we now see more practical fight scenes throughout the show. Daredevil's fighting style has also evolved to reflect the heavier, more durable gear he uses to take down crime in Hell's Kitchen. The new stunts introduced with the addition of characters also bring about a greater sense of chaos occurring in Hell's Kitchen. From bullet-riddled rooms to impaled eye sockets, Daredevil once again brings us the graphic violence we constantly see censored on cable television. Nevertheless, the scenes involving Daredevil and other notable fighters in the show are as breathtaking as you would expect from the first season, perhaps even better.