A Dope Movie Review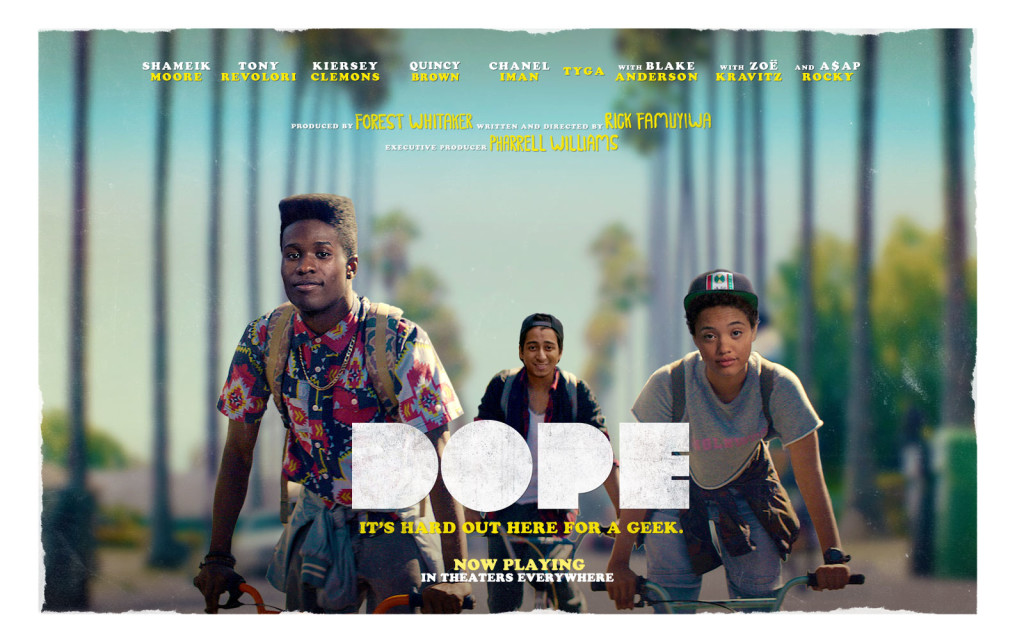 After being added to the Netflix selection, "Dope" has been growing more and more popular since its initial release at the 2015 Sundance Film Festival. As a cross between a coming of age and drug heist movie, the film seems completely ridiculous when skimming over the movie's IMDb description, but proves to be the perfect balance of comedy and drama overall.
The film follows high school senior, Malcolm, played by Shameik Moore, and his two best friends Jib and Diggy as they struggle to get through the obstacles of senior year, such as college applications and standardized tests, all while trying to survive life in one of the worst neighborhoods in Inglewood, California, dubbed "The Bottoms." Needless to say, Malcolm and his two 90's hip hop obsessed, video gaming, punk band-starting friends do not fit in with other inhabitants of "The Bottoms," where gang affiliation and drug dealing are the norm. However, when Malcolm befriends a drug dealer and winds up getting involved in a drug ring, his efforts to stay under the radar are turned upside down and his senior year turns into a wild adventure, far from anything he could've imagined.
Not only does "Dope" stand out for its ambitious and seemingly ridiculous plot, but also its amazing cast that kept the chaotic storyline, which could've easily fallen apart, intact. Despite the sudden change in plot when Malcolm, Jib, and Diggy become involved in the drug dealing ring, the characters themselves do not drastically changed into hard core gang leaders, but remain as relatable high school students; I could easily see qualities of my friends and peers at MHS in those three characters throughout the entire film. Furthermore, although some parts of the movie could be seen as purely comedic, serious moments in between as the characters fight against the seemingly inevitable path of destruction they are expected to follow as residents of "The Bottoms" serve to pull the movie back to reality and are a solid attempt to bring up a current social political issue: Is it possible for a person, like Malcolm and his friends, to triumph and succeed in life despite the weight of failure placed on his shoulders by a hopeless, crime ridden city? If so, can a person only achieve this through lucky encounters with a drug dealer?
With "Nas." and "A Tribe Called Quest" background music, "Dope's" soundtrack is definitely a plus for all 90's hip hop fans. In addition, the fictional punk band Malcolm, Jib, and Diggy are in, "Awreeoh," is surprisingly a catchy and somewhat popular band with over one million views on YouTube for their single "Don't Get Deleted." Knowing that Producer Pharrell Williams was responsible for writing the original tracks and putting together the movie's soundtrack, this well thought-out soundtrack comes as no surprise.
Overall, "Dope" deserves the buzz that it's been getting recently. The director, producers, and cast members help to skillfully intertwine both comedy and pathos to create a unique, action packed coming of age film.