Clinton and Sanders stand out in the Democratic Debate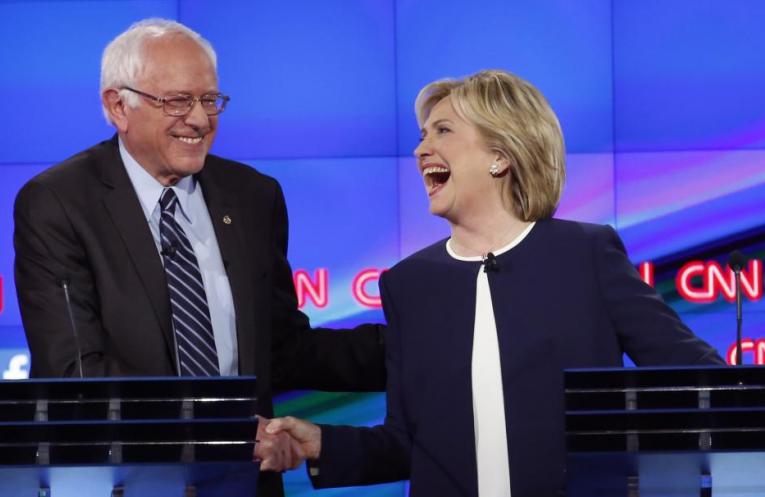 Picture Courtesy of Lucy Nicholson from iDigitalTimes.com
October 13th marked the first democratic debate for the 2016 elections.The debate was located in Las Vegas at the Wynn Hotel from 8:30pm to 11:30pm. The debate was hosted by CNN in partnership with Facebook and moderated by Anderson Cooper. The five candidates were Hillary Clinton, Bernie Sanders, Lincoln Chafee, Martin O'Malley, and Jim Webb. Even though the debate had no clear winner, both Sanders and Clinton had the best responses.
Clinton, a well-known politician and former Secretary of State has been the top contender for the Democratic nomination. Her strongest response came when she discussed paid maternity leave and whether or not Republicans would be willing to go forward with this idea. When asked, she responded, "It's always the Republicans or their sympathizers who say,you can't have paid leave, you can't provide health care." They don't mind having big government to interfere with a woman's right to choose and to try to take down Planned Parenthood. They're fine with big government when it comes to that. I'm sick of it." Her answer elicited a thunderous round of applause with some audience members giving her a standing ovation.
Sanders, a relatively unknown senator from Vermont, has become the surprise contender for the democratic primaries. A self proclaimed democratic socialist, his popularity has skyrocketed and he is now a possible challenger to Clinton's bid for presidency. Sanders' best response came when ask about the movement Black Lives Matter, answering, " Black lives matter. And the reason — the reason those words matter is the African American community knows that on any given day some innocent person like Sandra Bland can get into a car, and then three days later she's going to end up dead in jail, or their kids…" Another important statement from Sanders came when the candidates started discussing Clinton's email scandal with Sanders adding "Let me say — let me say something that may not be great politics. But I think the secretary is right, and that is that the American people are sick and tired of hearing about your damn e-mails." The response elicited another round of applause from the audience and Sanders shaking hands with Clinton in agreement solidarity.